Welcome Bonus 200% up to $5000
Where to find the best online casino in Australia
If there's one thing that Australia isn't short of its online casinos. There are plenty on offer, each with their own style and offerings. If you want the honest truth though straight from the crocodile's mouth, PlayCroco is the best online casino in Australia for punters who are serious about betting.
Now we don't like to toot our own horn, but it's hard to argue when we have so many loyal members getting in touch and sharing their positive experiences. From jackpot wins that have completely transformed someone's life to small but meaningful features such as our dedicated multiplatform support team. PlayCroco is a class act from the bottom all the way to the top.
But that's enough about us for one day. We prefer to let our offerings and approach do the talking. If you'd like to learn why we're consistently called one of the best online casinos in Australia, this page will help. Check it out now and don't forget to join and pick up your 200% up to $5,000 Welcome Bonus and your $50 freebie if you haven't already…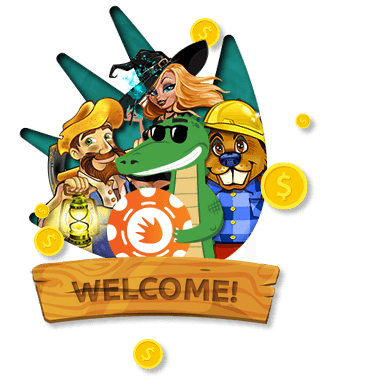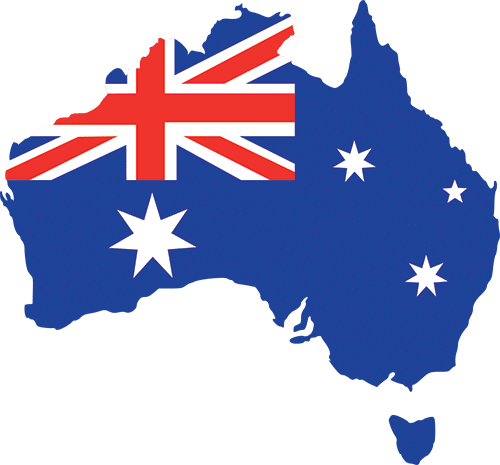 What makes a good online casino?
It's a question that's often asked but rarely answered. Are the best online casinos the ones with the most exciting games? Or does an online casino need to deliver daily bonuses in order to qualify as being the best? 
To us here in the Land of PlayCroco, we reckon it's a combination of all of the above combined with an added dose of awesomeness. In any case, here are a few of the main reasons why our members reckon Croco and our casino offerings are legendary!
New titles and classic games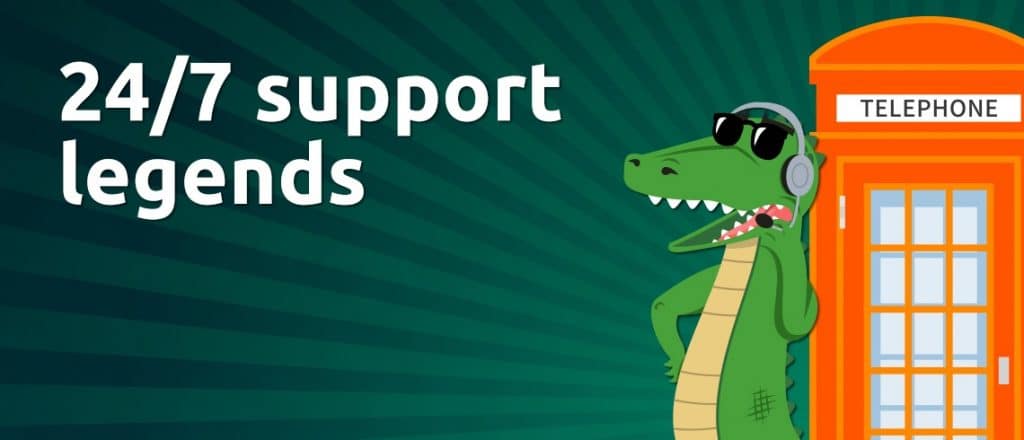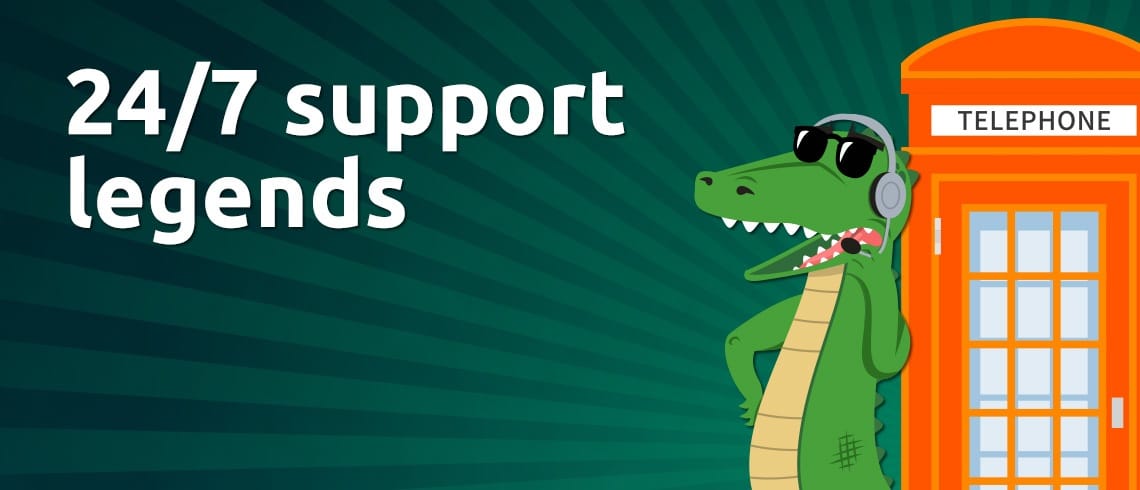 We don't believe in the saying "out with the old, in with the new". Instead, we prefer to say "in with the old, in with the new". That's because we think the best online casinos offer a mix of both old and new titles.
Classics such as blackjack, roulette and video poker are what give us a pleasant hit of nostalgia, while newer online pokies such as Storm Lords, Paydirt, Diamond Fiesta and Dr. Winmore ensure we never get bored.
Thanks to our comprehensive roster, we now host a great mix of games for all preferences. So whether you're a grizzled RoyalCroco or a fresh-faced BabyCroco, you can find something to play day in, day out, no matter what mood you're in!
Innovative online casino experience
Speaking of boring, do you ever feel like most online casinos offer the same old features, promotions or loyalty systems? We sure do, which is why we put our scaly skulls together when starting PlayCroco and came up with a totally new, creative and innovative casino approach.
This approach involves taking you on an epic journey and rewarding you along the way with prizes that are tailored to your playing style. You start as a BabyCroco when you join, then eventually become a RoyalCroco member with access to incredible bonuses and promotions. It's a loyalty system like never before, designed by one of the best online casinos around.
Try it out for yourself today. Just sign up, login, grab your welcome bonus and start climbing the ranks. Each new level comes with different perks, which means you're fairly compensated for the time you put in. So don't be afraid to give one of the best online casinos going a crack!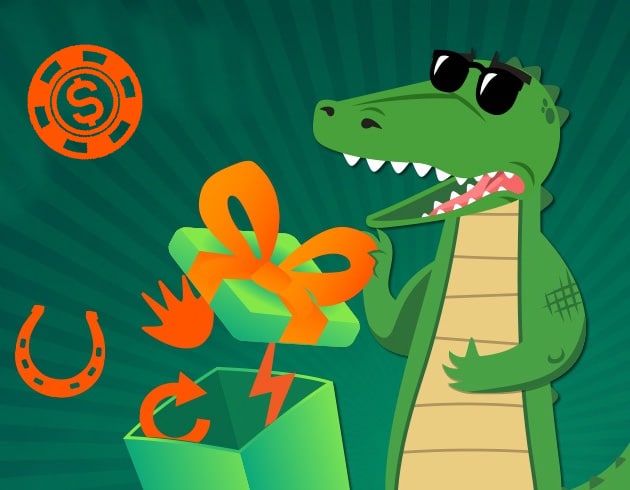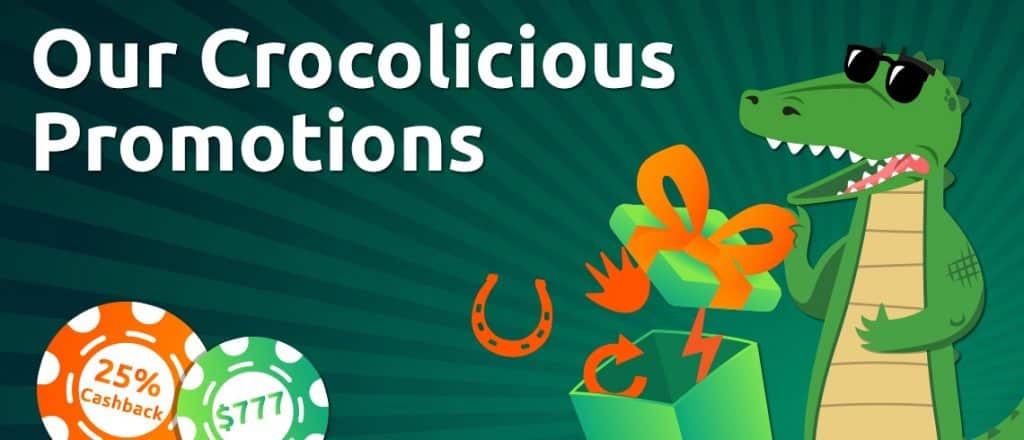 Christmas, birthdays and Easter holidays are normally the few times in life that we can sit back and actually enjoy pressies. But imagine if we could replicate that exhilarating feeling of being given a gift every day though? Oh snap… Croco says that we can!
All you need is to be a holder of a PlayCroco membership. Once onboard the PlayCroco express, we'll give you the chance to claim daily free spins, deposit bonuses and even a few freebies. Can we get a "heck yes"?
To top it all off, we'll even send you weekly bonuses and promotions that are custom created for you. Just remember to check your email or casino inbox regularly. It's about time you got treated like a VIC (very important crocodile) anyway…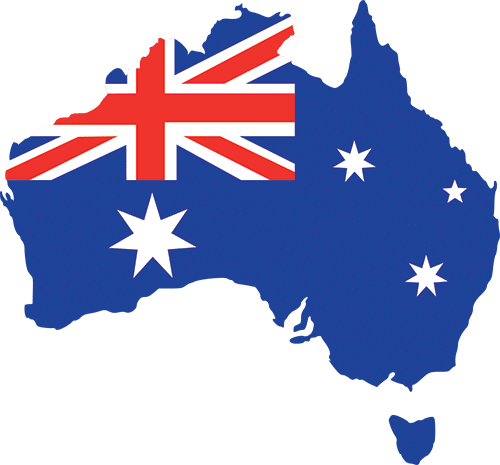 Ready to join the best online casino in Australia?
You read it here first distinguished blokes and sheilas. PlayCroco is one of the best online casinos in Australia and all of our members know it. Put on your shades, slick back those scales and step right into the Land of PlayCroco today. This is the home of cool crocs and even cooler online casino experiences.
Join the best online casino in Australia today